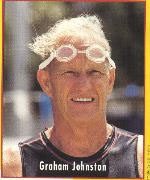 Graham Johnston (USA)
Honor Masters Swimmer (1998)
The information on this page was written the year of their induction.
FOR THE RECORD: 1952 OLYMPIC GAMES: 7th (4x200m freestyle relay), 5th semi-final (400m freestyle), 16th (1500m freetyle); 1950 COMMONWEALTH GAMES: gold (1650y freestyle), silver (440y freestyle); 1954 COMMONWEALTH GAMES: gold (1650y freestyle), bronze (440y freestyle); 41 MASTERS WORLD RECORDS: 200m/400m/800m/1500m freestyle, 200m & 400m I.M.; 1984 MASTERS WORLD CHAMPIONSHIPS: gold (5 events); 1986 MASTERS WORLD CHAMPIONSHIPS: gold (5 events); 1988 MASTERS WORLD CHAMPIONSHIPS: gold (5 events); 1992 MASTERS WORLD CHAMPIONSHIPS: gold (5 events); 1994 MASTERS WORLD CHAMPIONSHIPS: gold (6 events); 1996 MASTERS WORLD CHAMPIONSHIPS: gold (5 events); 1997 MASTERS PAN PACIFIC CHAMPIONSHIPS: gold (100m/200m/400m/800m freestyle, 200m & 400m I.M.); 87 MASTERS NATIONAL CHAMPIONSHIPS: 29 long course (100m/200m/400m/800m/1500m freestyle, 50m butterfly, 100m & 200m breaststroke, 200m & 400m I.M.), 58 short course (100y/200y/500y/1000y/1650y freestyle, 200y & 400y I.M.); 99 MASTERS NATIONAL RECORDS: 42 long course, 57 short course; MASTERS ALL AMERICAN: 21 years
Many say that Johnny Weissmuller was the greatest swimmer who ever lived. He set records that stood for dozens of years. Today we have a man who has been setting records for dozens of years. He holds Masters Age Group records form 100 meters to 1500 meters as well as many open water world records. When he sets records, he doesn't do it by a tenth of a second or even by as much as a second or two; he does it by minutes. He recently broke a 1992 U.S. Masters Record for the 6000 meter Postal Championship by 17 minutes.
Graham was born on May 15, 1931 and raised in Bloemfontein, South Africa. As a youngster, he swam at the pool which his father ran as a physical trainer. He learned to swim at age 4 and loved it. But he loved all sports including gymnastics, where he was a school letterman, and diving, where, in 1948 at age 17, he became the South African Junior Diving champion. Graham's older brother Don swam in the 1948 Olympics in the 1500m freestyle, having beaten brother Graham by a touch to qualify for the team. Graham continued to swim, winning many South African awards and a scholarship to the University of Oklahoma in 1951. Coach Joe Glander of Oklahoma prepared Graham for his good showings in both the NCAA and AAU National Championships in the freestyle events during the four years that followed his arrival in Norman, Oklahoma. Graham was the first South African to swim at an American university. Teammates Jeff Farrell, Tommy Kehoe, Peter Duncan and others were inspired by his example and character.
Graham competed at the 1940 British Empire Games in new Zealand winning a gold medal in the 160 yard freestyle and a silver in the 440 yard freestyle. Then, at the age of 21, he competed in the 400 meter and 1600 meter freestyle at the 1952 Olympic Games in Helsinki representing South Africa. Graham had become one of the best distance swimmers in the world.
In 1954, he again competed in the Empire Games for South Africa. As Queen Elizabeth watched in Vancouver, British Columbia, Graham won a second Games gold medal in the 1650 freestyle, breaking the Empire Games record by 45 seconds. He also won a bronze medal in the 440 yard freestyle.
At graduation, he became Oklahoma's newly acquired coach Matt Mann's student assistant with the swim team, winning 3rd place at the NCAA Championships. Graham married his college sweetheart, Janis and moved to Houston, Texas becoming a U.S. citizen. In 1972, at the start of the U.S. Masters Swimming Program, Graham began training and competing at the Dad's Club of Houston, beginning 26 years of great sports achievement. He has competed in over 5 age groups and now in the 65 to 69 age group, he has set 47 world records swimming freestyle and individual medley events. He has set 100 U.S. Masters National Records. His highlights include setting national records in the 5k and 10k Open Water Swimming Championships breaking the 800 meter freestyle record by 56.3 seconds at the1996 Sheffield, England World Masters Championships winning 31 gold medals at the last 6 World Masters Championships and winning the Waikiki Rough Ocean Swim 4 successive years and being the first 60 and over swimmer to go under 1 hour in the 25 year history of the race. He became the oldest and fastest of all age groups to complete the Robben Island to Capetown, South Africa with a 2 hour, 4 minute time in 51 degree water without wearing a wet suit.
Graham Johnston is one of the most conditioned athletes in the world today. Now in his late 60's, his current times are competitive in age groups down in to the 40's. He has achieved all American status for 21 of 26 years of the Masters Program to date. Graham Johnston is the epitome of the Masters competitive swimming program.