Happy Birthday to the great synchro swimmer, Kim Welshons, who we lost in 2015…..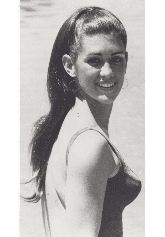 ---
KIM WELSHONS (USA) 1988 Honor Synchronized Swimmer
FOR THE RECORD: PAN AMERICAN GAMES: 1963 gold (team); AAU SENIOR NATIONAL CHAMPIONSHIPS: 13 (solo, duet, team and figures); AAU JUNIOR NATIONALS: 3; INTERNATIONAL SYNCHRONIZED SWIMMING TITLES: 14 (solo, duet, team, figures); All American Team Member 5 times.
At a time when synchronized swimming had not yet received Olympic and World Championship recognition, Kim Welshons was the most honored swimmer of the sport.  The titles she received including a Pan American Games gold medal, fourteen international and thirteen national titles, are indeed indicative of world Championship status.  Kim was instrumental in advancing international awareness and participation within the competitive arena of synchronized swimming.
In Brazil, as a member of the U.S. synchronized swimming team in 1963, at the age of 12, Kim became, and currently remains, the youngest person to ever receive a gold medal in the Pan American Games.  Other competitive travels took her to a 1970 win in Copenhagen as well as to 40 states, Canada, Mexico, Europe, Japan, South America, Yugoslavia and Puerto Rico.
In 1966, at the request of President and Mrs. Lyndon B. Johnson, Kim delivered a command performance in Mexico City at a reception held in honor of the Mexican President and Mrs. Diaz Ordaz.  Later that same year, Mrs. Johnson again requested Kim to display her talents for President Johnson, California governor and Mrs. Edmund G. Brown and a host of other celebrities at the Hearst Castle in San Simeon, California.  On New Year's 1971,  Kim was featured in the Pasadena Tournament of Roses Parade as the World Synchronized Swimming Champion.
Although Kim retired in 1970, she has continued to contribute to synchronized swimming and to the scientific advancement and media recognition of all amateur sports  She coached the Mexican National Team for two years, served as technical spokesperson and provided color commentary for the major television networks for eight years and has published numerous articles on the sport.  Not only was Kim a multi-champion as a member of the Santa Clara Aquamaids, but she was an outstanding international representative for synchronized swimming and U.S. women in sports.