For His 70 Years of Dedication to Water Polo, Dr. Ferenc Salamon To Be Inducted Into ISHOF
---
19 March 2019, 02:24pm
For over 70 years, Dr. Ferenc Salamon has been dedicated to the sport of water polo. At the age of 22, he joined the Hungarian National Team and retired as a player 14 years later. Salamon then transitioned to a long career as a referee and a member of numerous high level committees where he helped shape the sport's organization, direction, and competitions from 1970 to 2004, including 10 Olympic Games and all of the World and European Championships. Dr. Ferenc Salamon will be inducted into the International Swimming Hall of Fame as a member of the Class of 2019 during the Honoree Induction ceremony in Fort Lauderdale, Florida, May 18, 2019.
Meet Ferenc in person and hear his inspirational life story at the ISHOF Induction dinner. Become an ISHOF Legacy Member and attend the ISHOF Induction Dinner for FREE. Can't attend the event? Please consider making a donation to ISHOF to support Ferenc and our other inspirational honorees.
About Ferenc
Hungary is a land of thermal springs and although landlocked, swimming and water sports are ingrained in their culture. This love of water led to an early domination of international swimming and diving competitions in the late 19th and early 20th century. In the 1920s, it was water polo that came to symbolize Hungary's unique strengths and individuality. So, it was natural for a boy born in 1930 to want to play water polo.
Dr. Ferenc Salamon was a swimmer who started playing water polo late, at the age of 19, in 1949. He was a talented athlete and his development was rapid. In 1952, he joined the Hungarian National Team and was a member of the silver- medal winning team of the Universiade Games in Paris. Although Dr. Salamon retired as a player in 1966, he has remained active in water polo for almost 70 years.
Two years after his retirement as a player, he became an internationally certified referee and immediately began officiating all types of competitions, including the 1970 European Championships (Barcelona), followed by the 1972 Olympic Games (Munich), and the very first FINA World Championships, 1973, in Belgrade. He continued officiating for major events, such as the LEN (Ligue Europ'eenne Championships de Natation) Championships for 34 years, the Olympic Games for 28 years, the World Championships for 26 years and the FINA World Cup for 21 years.
Dr. Ferenc Salamon has served as a member of the LEN Technical Water Polo Committee for 34 years, uninterrupted, from 1970-2004, and has also been a member of the FINA Technical Water Polo Committee for 28 years, from 1972-2000.
During these many years of serving, Dr. Salamon's contributions to the organization have been exemplary and he has been helpful in the various areas of aquatic sports, including, organizing, directing, and participating in many world and other international events, tournaments, conferences, clinics and congresses between 1970 and 2004. They include ten Olympic Games, all the World and European Championships, FINA Cups, Youth World Championships, qualification tournaments for Olympic Games and World Championships, etc., during these same years.
Salamon is also a Masters Committee Member of FINA and is on the Awards Commission of LEN. In his role as Masters Committee Member, he participated in FINA Masters World Championships in the 2014, 2015 and 2017 Games and is also a member of the recent action committee for the upcoming 2019 event.
He has offered numerous proposals, amendments and advice for the technical committee with the intention to improve and further develop the game. Some of his suggestions influenced the entire sport of water polo including the regulation regarding the 55-year age limit for acting referees; introduction of experimental tournaments, i.e. today's LEN trophy; and the 1970's system to supervise officials.
Dr. Salamon was presented the FINA and LEN gold and silver pins for his extraordinary work and dedication to the sport of water polo. He was awarded an Honorary Life Membership in LEN and to the Hungarian Swimming Federation. He has been bestowed with the honors of the Hungarian Sports Award, the Sport of the Hungarian Republic, and the Olympic Award, presented by the Hungarian Olympic Committee.
In addition to the many hours he devotes to the sport of water polo, Dr, Salamon is a Chief Hospital Physician. His medical and professional publications appear regularly in the FINA Magazine.
About The International Swimming Hall of Fame Induction Weekend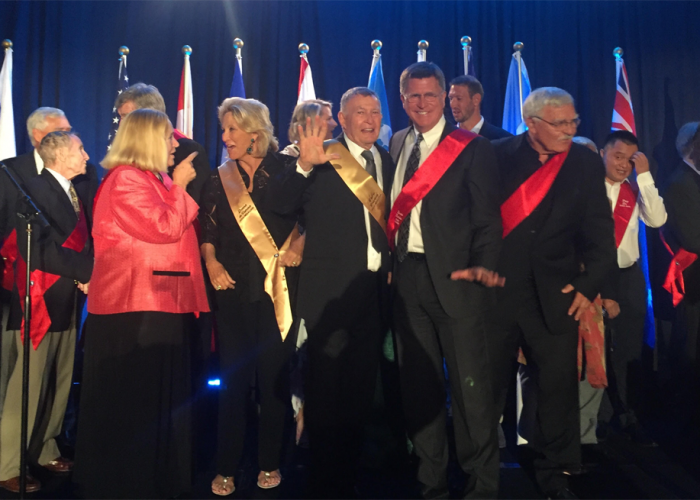 The International Swimming Hall of Fame (ISHOF) Induction Ceremony is shaping up to be a star-studded weekend with multiple events spread out over three days in beautiful Fort Lauderdale, Florida. Make your plans now to attend the weekend of May 17-19, 2019! ISHOF Members can purchase the Weekend Package and Save! Can't attend the event? Make a donation to ISHOF to support our honorees.
This year's International Swimming Hall of Fame honorees include Swimmers: Jason Lezak (USA), Otylia Jedrzejczak (POL), Stephanie Rice (AUS), Britta Steffen (GER); Diver: Li Ting (CHN); Water Polo Player: Alessandro Campagna (ITA); Coach: Boris Popov (RUS); Synchronized Swimmer: Olga Sedakova (RUS); Open Water Swimmer: Marcy MacDonald (USA); Contributor: Dr. Ferenc Salamon(HUN); and Pioneer: Alfred Nakache* (FRA).
ISHOF will also present the 2019 Gold Medallion Award to Dr. Joseph B. MacInnis.
Greg Eggert—

Competitive Swimming

Don Holbrook—

Water Polo

Bill Farrar—

Competitive Diving

Igor Kartashov—

Synchronized Swimming

Peter Davis—

Aquatic Safety

Carvin DiGiovanni—

Recreational Swimming

Carolyn Wood

—Buck Dawson Author Award: "Tough Girl"

Dale Petranech

—ISHOF Service Award

David Duda

—Judge G. Harold Martin Award

Robert Strauss

—Virginia Hunt Newman Award

Ruth Meyer

—John K. Williams, Jr. International Adapted Aquatics Award

Peter Bick

—Al Schoenfield Media Award

Jim Wood*

—Lifetime Achievement Award
The Weekend Schedule
Friday, May 17th — Paragon & ISHOF Specialty Awards Night
5:30 PM Cocktails, 6:30 PM ISHOF and Paragon Awards at ISHOF Museum
Saturday, May 18th — Honoree Induction Day Luncheon
12-1:30 PM Luncheon ISHOF Museum
Official 55th Annual International Swimming Hall of Fame Induction Ceremony
VIP Reception 6:00 PM, Induction Ceremony 7:00 –10:00 PM at Fort Lauderdale Marriott Harbor Beach Resort and Spa
Sunday, May 19th — Swim Across America
TICKET INFORMATION
MAY 17 ISHOF Awards and Paragon Awards Night (Hors D'oeuvres and Free Bar) 5:30 PM

MAY 18 Luncheon

MAY 18 INDUCTION CEREMONY AND DINNER 6:00 PM
HOTEL INFORMATION
Host Hotel: Fort Lauderdale Marriott Harbor Beach Resort & Spa

Four and a half star upscale retreat with private beach access, two pools, four restaurants, full service spa and oceanside bar. Location
of the Saturday evening induction ceremony. ¼ mile south of the International Swimming Hall of Fame.

Courtyard by Marriott Fort Lauderdale Beach

440 Seabreeze Blvd., Ft. Lauderdale, FL 33316 (954) 524-8733
Special ISHOF Guest Rate of $169 per night
Please call 954 524-8733 and mention Swimming Hall of Fame Honoree Ceremony for the special Rate of $169.
For more hotel or ticket Information contact Meg Keller-Marvin meg@ishof.org / 570-594-4367
* Deceased