English Channel Swim Aims for World Record, Raise Money For Ukraine
---
by DAN D'ADDONA — SWIMMING WORLD MANAGING EDITOR
05 June 2023, 07:11am
A group of swimming champions will take on their biggest challenge yet – the English Channel.
A five-person team will embark on a 33,000-meter journey through the world's busiest shipping lane. Ross McWhirter, Jordan J. Dunn, Harrison Haines, Jack Blyzinskyj and Dan Wallace will journey from England to France between June 9-15, depending on conditions.
Wallace is a Great Britain Olympic silver medalist and Commonwealth Games champion. Blysinskyj is an 11-time All-American and Olympic trials finalist. McWhirter is a Scottish triathlete. Dunn is a Scottish national team member and Haines is a former University of Florida swimmer from Australia.
The goal of the swim is to set a world record and also raise money for worthy causes, including Ukraine relief. The team is trying to raise £10 ($12.45 U.S. dollars) per meter swum across the channel. The swim has already raised £85,747.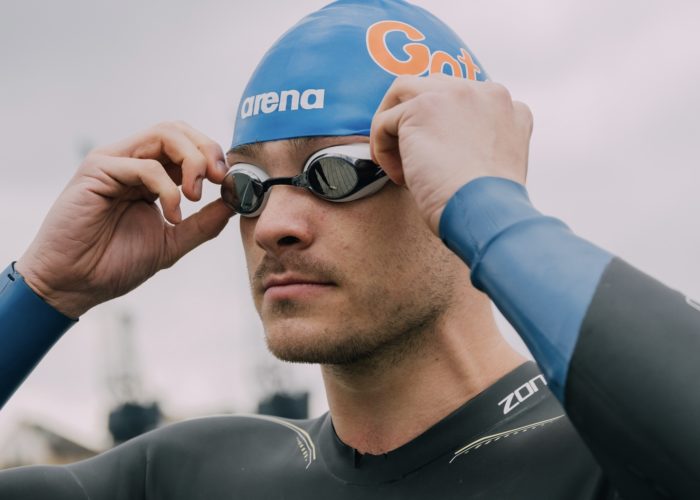 The English Channel swim has incredible meaning for the participants, particularly Blyzinskyj, who has been preparing since Russia's invasion of Ukraine in February of last year.
"As a family with deep Ukrainian roots, the invasion was impossible to comprehend. My Grandfather was born in Western Ukraine when the country was caught between a Soviet occupation and an advancing German force," Blysinskyj said. "At 15 he fled, first through Switzerland and Italy, before eventually finding shelter at a refugee camp. A lifetime of swimming, and a year of fighting for the approvals and permits have brought me here – I hope my small act of human courage continues to shine a light on the resilience of Ukraine, her people, and all those who continue to help."
Charitable organizations participating in the English Channel swim:
RememberUs.org (United States/Ukraine): Provide urgent humanitarian aid to Ukrainians in critical situations, with a focus on vulnerable individuals (orphans, families in poverty, single mothers, etc.). Focus is on those still living in war zones and recently liberated areas, where people are in the most immediate need. Since the start of the war, RememberUs.org has helped over 65,000 families.
Solidarité Ukraine (France): Solidarité Ukraine works to place Ukrainian refugees in jobs, and supports them with accommodation and access to other services.
Imperial Sanctuary Fund (UK): Provides scholarships, housing, and aid to those students and researchers affected by the war