Coach Bill Sweetenham Will Be Inducted into International Swimming Hall of Fame
---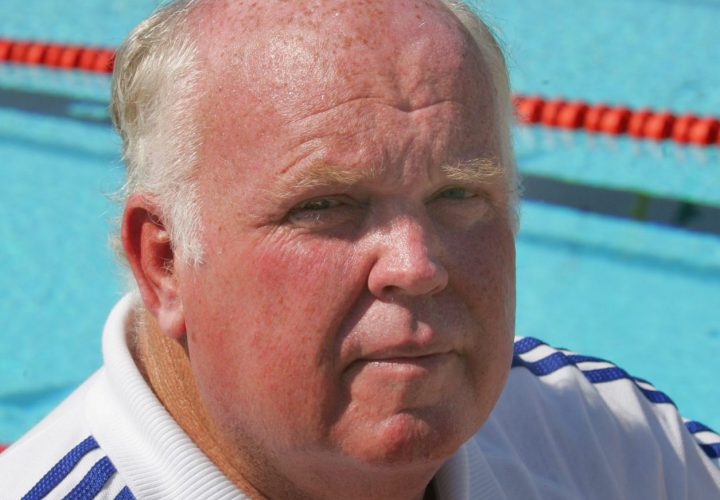 Bill Sweetenham is an international coaching legend who learned first-hand what it takes to be a winner in life, both in and out of the pool. Coach Sweetenham will be inducted into the International Swimming Hall of Fame as a member of the Class of 2018 in ceremonies in Fort Lauderdale, Fla., on May 19, 2018.
Meet Coach Sweetenham in person at the ISHOF Induction dinner. Become and ISHOF Legacy Member and attend the ISHOF Induction Dinner for FREE
Bill Sweetenham grew up in poverty in the country part of Australia, a place called Mount Isa, a mining town out in the boonies. He found refuge from this tough environment and from his father's strict discipline through participation in sports, especially swimming.
After one serious transgression, the penance demanded by his father was for Bill to teach a fellow miner's thalidomide child how to swim at the local town pool for free. Bill was 17 and knew nothing about teaching or coaching. But from the moment he started working with the boy, he discovered his passion to become a teacher and coach and became totally committed to be the best he could be.
He started coaching at the Mt. Isa community pool and quickly developed a team that ranked third in the country. Recruited to replace Hall of Famer Laurie Lawrence at Carina, a club in Brisbane, he earned a reputation for being a tough and demanding coach — and for developing three of the greatest distance swimmers in history, Hall of Famers Steve Holland, Tracey Wickham and Michelle Ford.
In 1980 Bill was recruited to work at the newly formed Australian Institute of Sport and was named Head Olympic Coach for the Moscow Games. He was also awarded a Churchill Fellowship, which sent him to the USA for a year to study all aspects of coaching under Hall of Fame Greats Nort Thornton, Don Gambril, George Haines and Doc Counsilman.
In 1983, while on a training trip with the Australian team in West Germany, Bill suffered a catastrophic leg injury in a freak road accident. It resulted in major surgery that continues to present him with challenges and hardships to this day. Dealing with this injury, he believes, taught him to be both a better person and a better coach – and he keeps learning from it.
In 1990, after serving as the head swimming coach at the Australian Institute of Sport for 10 years and being in charge of many of Australian swimming teams at the Olympic Games, Commonwealth Games and other events since 1978, Bill found a new challenge in an offer to develop swimming in Hong Kong. But four years later, he was back in Australia as National Youth Coach. Favored to replace Don Talbot as National Head Coach after the Sydney Games, he took an offer from British Swimming instead. Britain had been in a downward spiral with its swim program for many years and in Sydney the Brits returned home without a single medal for its swimmers for the first time. They wanted him as their High Performance Director and he was excited by the challenge.
After eight years on the job. Bill transformed British Swimming. Under his leadership and management, Britain's swimmers won 18 World Championship titles and produced their best ever results in the Commonwealth Games, World Championships and Olympic Games. He created and implemented an early talent identification and development program that many experts believe is responsible for Britain's success in the pool today.
Bill Sweetenham stepped down from his role with British Swimming and retired from day-to-day coaching in 2007. During his career he served as head National Team Coach at five Olympic Games, coached 27 medalists at the Olympic Games and World Championships and nine world record holders. He is an accomplished and published author and is internationally recognized consultant for his strategic planning capabilities in high performance sport and business. When not involved in a coaching education program, he is searching the world for more knowledge and experience, and for the next piece of information that will improve athlete and coaching performance.
About The International Swimming Hall of Fame Induction Weekend
The International Swimming Hall of Fame (ISHOF) Induction Ceremony is shaping up to be a star-studded weekend with multiple events spread out over three days in beautiful Fort Lauderdale, Florida. Make your plans now to attend the weekend of May 18-20, 2018! ISHOF Members can purchase the Weekend Package and save!
This year's International Swimming Hall of Fame honorees include Swimmers: Rebecca Adlington (GBR), Amanda Beard (USA), and Libby Trickett (AUS); Water Polo Player: Brenda Villa(USA); Contributor: Andy Burke (USA); Diver: Irina Lashko (USSR, RUS, AUS) ; Coach: Bill Sweetenham (AUS); Synchronized Swimmer: Miho Takeda (JPN); Open Water Swimmer: Petar Stoychev (BUL); and Pioneer Synchronized Swimming Contributor: Joy Cushman (USA). Ian Crocker (USA) was a part of the Class of 2017, but was unable to attend the induction due to Hurricane Harvey. We will be officially celebrating his induction as part of the class of 2018.
The Paragon Awards and ISHOF Awards will be presented of Friday of the same weekend
2018 Paragon Award and ISHOF Award Recipients:
Frank Busch

for Competitive Swimming

Dr. Ben Rubin

for Diving

Bob Corb

for Water Polo

Jennifer Gray

for Synchronized Swimming

David Bell

for Recreational Swimming

Jill White

for Water Safety

Anthony Ervin and Constantine Markides –

Buck Dawson Author Award: "Chasing Water: Elegy of an Olympian"

Gay DeMario

– ISHOF Service Award

Lana Whitehead

– Judge G. Harold Martin Award

Johnny Johnson

– Virginia Hunt Newman Award

Kathy Bateman

– John K. Williams, Jr. International Adapted Aquatics Award

Bob Ingram

– Al Schoenfield Media Award
Additional Events