Jason Lezak To Be Inducted Into The International Swimming Hall of Fame
---
04 February 2019, 12:25pm
Jason Lezak is an eight-time USA Olympic medalist (four gold, two silver and two bronze), two-time USA Olympic Team Captain, and a four-time Olympian (2000, 2004, 2008, 2012). He is best known for anchoring the 4x100m freestyle relay at the 2008 Olympic Games in Beijing where his come-from-behind epic swim was the fastest relay split of all-time. His relay performance secured a win for the United States and helped Michael Phelps win an unprecedented 8 gold medals. The 2008 relay anchor swim was voted by Sports Illustrated as the most memorable single performance by an American at the Beijing Games.
Jason Lezak will be inducted into the International Swimming Hall of Fame as a member of the Class of 2019 during the Honoree Induction ceremony in Fort Lauderdale, Florida, May 18, 2019.
Meet Jason Lezak in person at the ISHOF Induction dinner. Become an ISHOF Legacy Member and attend the ISHOF Induction Dinner for FREE.
Lezak was a Southern California kid, growing up in Irvine, California as the son of Linda and David Lezak. He attended Irvine High School and continued to study at the University of California, Santa Barbara (UCSB). In addition to the UCSB Swimming Gauchos, Lezak represented Rose Bowl Aquatics and was a member of Novaquatics under the guidance of coach Dave Salo.
Lezak was always a well-rounded athlete. He began swimming at age five. By age ten, he was participating in Junior Olympic swimming competitions and open water events. However, his interest in athletics spanned a variety of other sports such as basketball, baseball, soccer, and water polo – several of which he continued to play in high school.
During his early teens, Lezak went through some ups and downs in the sport of swimming. It wasn't until he quit basketball after his sophomore year of high school that he saw some big improvements in his swimming. He continued to improve throughout high school years earning All-America honors his senior year in swimming and water polo.
Lezak received a scholarship to swim at UCSB under coach Gregg Wilson where he saw modest improvement during his first two years. However, during his junior year he turned it all around by placing 5th and 6th at NCAA's in the 50 and 100 freestyle. After he finished his college eligibility in 1998, his star in swimming began to rise toward Olympic heights.
In the summer of 1998 he won the 100m freestyle at the U.S. National Championships. Two years later, at the 2000 Summer Olympics in Sydney, Lezak won his first Olympic gold medal as a member of the USA's 4×100m medley relay. He won a silver medal in the 4×100m freestyle relay at those same games and soon thereafter became the number one ranked swimming sprinter in the world.
In 2004, Lezak appeared in Athens at the Olympic Games, after breaking the 100m freestyle American record during the USA Olympic Trials earlier in the year. Gold medal success once again came to Lezak as member of the 4 x 100 medley relay as he swam the anchor freestyle leg behind Aaron Peirsol, Brendan Hansen, and Ian Crocker. The relay team set a world record in that event by beating a powerful German team.
Leading up to the 2008 Beijing Olympic Games, Lezak began to train regularly without a coach – basically, unheard of in the sport of swimming. Lezak proved that he was one of very few elite swimmers with the discipline to train daily without a team or trainer at his side. Lezak told the media that he was capable of motivating himself. He firmly believed that this willpower was key to his confidence and competitive mentality, and that only he knew what was right for him at his age and for his specialty.
At the 2008 Summer Olympics in Beijing, Lezak was the oldest male on the U.S. swim team and tri-captain. He anchored the U.S. 4×100m freestyle relay team that won the gold medal and set a new world record. His performance on that relay was possibly the greatest performance of the Games…
In the final 25 meters, Lezak overtook French team anchor and ISHOF Honor Swimmer, Alain Bernard to win gold despite Bernard having nearly a full body length's advantage when he started his leg, and half a body length with 25 meters from the end. Lezak's split of 46.06 was the fastest 100m freestyle split in history by nearly six-tenths of a second. The final time of the U.S. team was 3:08:24, 3.99 seconds faster than the previous world record. The French team finished second at 3:08.32, eight one-hundredths (0.08) of a second behind. It was the closest finish in the event's history. Lezak's anchor swim will be shown for years, even decades to come on sports shows and highlights as one of the greatest performances of all time. Lezak's dominating leg of the relay won the gold and secured Michael Phelps' record-setting eighth gold medal – which bettered Mark Spitz's 1972 seven gold medal performance.
The 4x100m freestyle relay finish was recognized as "Best Moment" at the ESPYs the following year.
While the relay swims are something Lezak will never forget, his favorite memory from Beijing – and perhaps in the entirety of his career – was the 100m freestyle individual race. He touched in a tie with Brazilian sprinter, Cesar Cielo, behind the very same Frenchman who he bested in the relay, Alain Bernard, and Eamon Sullivan. While this resulted in a bronze for both athletes, Lezak felt that, after expending so much energy in the relay, the race was a moment of truth for him, especially at his age (32 – the oldest male on the United States' team).
Lezak qualified for his fourth Olympics at the 2012 United States Olympic Trials in Omaha, Nebraska as a member of the U.S. 4×100m freestyle relay team, where he helped earn a silver medal for the team's second-place finish in the Olympic finals. He became the first male swimmer in Olympic history to win four medals in the same event, the 4×100m freestyle relay.
In 2009, Jason Lezak represented the U.S.A. in Israel at the Maccabiah games. It was a tough decision for Lezak to make as he would have to pass on the World Championships. But to Lezak, swimming at the Maccabiah games was more than just another swim competition. During this trip, he got the opportunity to see many of the sites he learned about as a child, as well as compete against the best Jewish athletes around the world. Winning four gold medals was only part of the experience. While attending the Maccabiah Games, Lezak was inducted into the International Jewish Sports Hall of Fame, was selected to light the flame at the opening ceremonies, and even met with the Israeli President.
Lezak returned to the Maccabiah Games in 2017 and swam in a special 4x50m relay race between American and Israeli All-Star teams. Lezak was joined by Olympic gold medalists, Anthony Ervin(three golds), Lenny Krayzelburg (four golds) and Masters swimmer, Alex Blavatnik. The relay swam a time of 1:48.23 beating the Israeli All-Star team, who came in at 1:55.25
As a proud husband and father, highly respected athlete and Olympic gold medalist, Jason has become an inspiration to a wide variety of audiences. He successfully balances his family life with motivating others and sharing his stories.
About The International Swimming Hall of Fame
Induction Weekend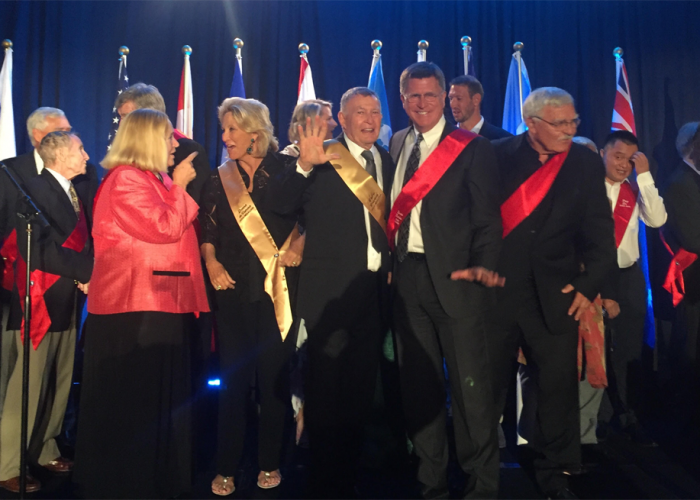 The International Swimming Hall of Fame (ISHOF) Induction Ceremony is shaping up to be a star-studded weekend with multiple events spread out over three days in beautiful Fort Lauderdale, Florida. Make your plans now to attend the weekend of May 17-19, 2019! ISHOF Members can purchase the Weekend Package and Save!
This year's International Swimming Hall of Fame honorees include Swimmers: Jason Lezak (USA), Otylia Jedrzejczak (POL), Stephanie Rice (AUS), Britta Steffen (GER); Diver: Ting Li (CHN); Water Polo Player: Alessandro Campagna (ITA); Coach: Boris Popov (RUS); Synchronized Swimmer: Olga Sedakova (RUS); Open Water Swimmer: Marcy MacDonald (USA); Contributor: Dr. Ferenc Salamon (HUN); and Pioneer: Alfred Nakache* (FRA).
ISHOF will also present the 2019 Gold Medallion Award to Dr. Joseph B. MacInnis.
Greg Eggert—

Competitive Swimming

Don Holbrook—

Water Polo

Bill Farrar—

Competitive Diving

Igor Kartashov—

Synchronized Swimming

Peter Davis—

Aquatic Safety

Carvin DiGiovanni—

Recreational Swimming

Carolyn Wood

—Buck Dawson Author Award: "Tough Girl"

Dale Petranech

—ISHOF Service Award

David Duda

—Judge G. Harold Martin Award

Robert Strauss

—Virginia Hunt Newman Award

Ruth Meyer

—John K. Williams, Jr. International Adapted Aquatics Award

Peter Bick

—Al Schoenfield Media Award

Jim Wood*

—Lifetime Achievement Award
The Weekend Schedule
Friday, May 17th — Paragon & ISHOF Specialty Awards Night
5:30 PM Cocktails, 6:30 PM ISHOF and Paragon Awards at ISHOF Museum
Saturday, May 18th — Honoree Induction Day Luncheon
12-1:30 PM Luncheon ISHOF Museum
Official 55th Annual International Swimming Hall of Fame Induction Ceremony
VIP Reception 6:00 PM, Induction Ceremony 7:00 –10:00 PM at Fort Lauderdale Marriott Harbor Beach Resort and Spa
Sunday, May 19th — Swim Across America
TICKET INFORMATION
MAY 17 ISHOF Awards and Paragon Awards Night (Hors D'oeuvres and Free Bar) 5:30 PM

MAY 18 Luncheon

MAY 18 INDUCTION CEREMONY AND DINNER 6:00 PM
HOTEL INFORMATION
Host Hotel: Fort Lauderdale Marriott Harbor Beach Resort & Spa

Four and a half star upscale retreat with private beach access, two pools, four restaurants, full service spa and oceanside bar. Location

of the Saturday evening induction ceremony. ¼ mile south of the International Swimming Hall of Fame.

Courtyard by Marriott Fort Lauderdale Beach

440 Seabreeze Blvd., Ft. Lauderdale, FL 33316 (954) 524-8733
Special ISHOF Guest Rate of $169 per night
Please call 954 524-8733 and mention Swimming Hall of Fame Honoree Ceremony for the special Rate of $169.
For more hotel or ticket Information contact Meg Keller-Marvin meg@ishof.org / 570-594-4367
* Deceased