Australian Olympian, Stephanie Rice, To Be Inducted Into the International Swimming Hall of Fame
---
by MEG KELLER-MARVIN, 26 March 2019, 10:26am
Swimmer Stephanie Rice is a two-time Olympian, triple Olympic gold medalist and five-time world record holder who dominated the 200 and 400 IM events. For her performance in the 2008 Beijing Olympic Games, she was awarded "Female Swimmer of the Meet" alongside Michael Phelps receiving the counterpart award. After retiring from a successful career in swimming, the young entrepreneur has many ventures going and is giving back to the sport by developing Learn-to-Swim programs in India with the goal of producing India's very first Olympic swimming medalist. Stephanie Rice will be inducted into the International Swimming Hall of Fame as a member of the Class of 2019 during the Honoree Induction ceremony in Fort Lauderdale, Florida, May 18, 2019.
Meet Stephanie in person and hear her inspirational life story at the ISHOF Induction dinner. Become an ISHOF Legacy Member and attend the ISHOF Induction Dinner for FREE. Can't attend the event? Please consider making a donation to ISHOF to support Stephanie and our other inspirational honorees.

About Stephanie
Stephanie Rice sits in the company of only six other legendary Australian athletes that have won a total of three gold medals at one Olympic Games. Five of the other six are also swimmers and all but one are Hall of Famers: Ian Thorpe, Murray Rose, Shane Gould, Petria Thomas and Jodie Henry.
Rice is a two-time Olympian, triple Olympic gold medalist and five-time world record holder. She excels in all four strokes, making her a very successful IM swimmer for her country.
Rice qualified for Age Group Nationals at about age 13, while swimming for Vince Raleigh at Brothers Swim Club. Coach Matt Brown took over the coaching of Stephanie for the next year. While under Brown's direction, she really began to excel, qualifying her for the Trans-Tasmin Meet and Junior Pan-Pacs in Hawaii (2002).
With Stephanie really starting to make headway in her swimming career, she decided she needed to make a drastic move to help take her to the next level. That move was to select a new coach that could help her obtain her goals. That man was Michael Bohl, and it turned out to be the perfect decision for Stephanie. Bohl and Rice would remain together for the rest of her swimming career.
Stephanie burst onto the international scene in 2006 by winning two gold medals at the Commonwealth Games in Melbourne, one in the 200 IM, in a time of 2:12.90 and the second in the 400 IM. The World Championships, the next year, in 2007, also in Melbourne, were a success for Rice as well. She took bronze in the 200m IM, in a time of 2:11.42, while breaking the Australian record by an entire second. In the 400, she won her second bronze with a time of 4:41.19, taking 0.54 off her best time. It was a personal best for Rice.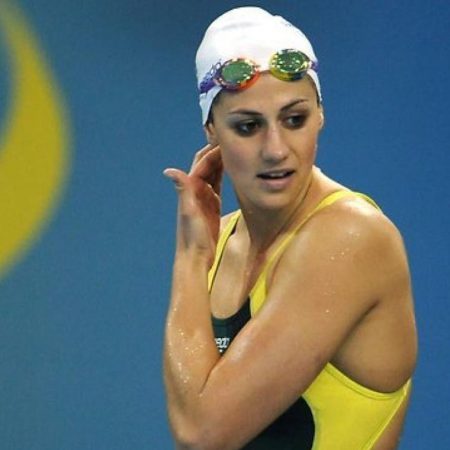 That same year, Rice attended a meet in Italy, where she posted a new personal best in the 400 IM, swimming a 4:40.79, inching closer and closer to that 4:40 mark. Next up, the Japanese Open, where she finally hit the 4:40 mark she had been chasing, and in the process, setting a new Australian and Commonwealth record with a time 4:37.18.
In March 2008, Rice competed at the Australian Olympic Trials and broke the world record in the 200- and 400-meter IM, winning the events and qualifying for her first Olympic Team. In the 200 IM, she swam in a time of 2:08.92, taking almost an entire second off the previous record, set by Wu Yanyan of China. In the 400, Rice came in at 4:31.46, 1.43 seconds below American Katie Hoff's mark of 4:32.89.
As a first-time member of the Australian Olympic Team in 2008, Stephanie Rice proved her place on the team, by winning three gold medals and breaking three world records in Beijing. She received her first-ever Olympic medal, also Australia's first gold medal of the Games and it's 400th Summer Olympic medal, when she won the 400-meter IM, becoming the first woman to break 4:30 in the event. Her second gold came in the 200 IM, where she was neck and neck with Kristi Coventry for the last 50 meters, but Stephanie pulled it off at the last second. The 200 IM was followed by the women's 4 x 200-meter freestyle relay, where she was the lead off swimmer.
Stephanie was awarded "Female Swimmer of the Meet", alongside Michael Phelps, and on January 26, 2009, she received the prestigious "Order of Australia Medal."
The 2008 Beijing Olympics were probably the high point in Stephanie Rice's career, but what most didn't know, there was something taking away from all the glory. Stephanie first started experiencing shoulder pain during the 2008 Games. She competed in the 2009 FINA World Championships (Rome) and came away with two silver in the 200 IM and the 4 x 100 medley relay and one bronze.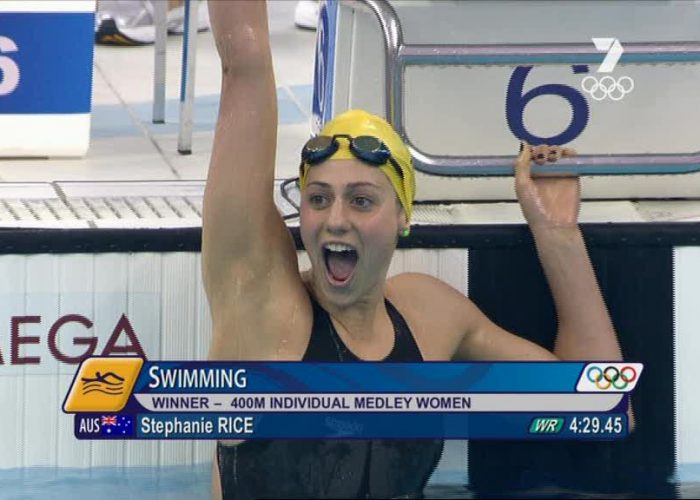 She continued to endure shoulder pain in 2009, but by 2010, it was so bad, she relented to having surgery. This forced her to have to miss out on the 2010 Pan-Pac and Commonwealth Games, which she had already qualified for.
Stephanie's surgery was a success and by 2011, she was fully committed to her rehabilitation and training regime and was ready to begin preparations for the 2012 Olympic Games.
Leading up to the Olympics, Stephanie competed in the 2011 FINA World Champions in Shanghai. She did not medal in the 200 IM, finishing fourth in a time of 2:09.65, but she took bronze in the 400 IM, barely missing silver by 0.01, in a time of 4:34.23.
Everything was going well for Rice, until December of 2011, when she tore a tendon in her shoulder. Tests showed that Rice needed surgery with a six-month recovery, but with the London Olympics Trials only ten weeks away, that was just not possible. With her doctors and coach, Stephanie decided to have a smaller surgery, that would hopefully hold her over until after the Olympic Games.
Stephanie performed extremely well at the Trials, considering she had just undergone two surgeries and then a quick training of six weeks to get her ready for the Trials. She won both IM events, the 200 and 400 and qualified for the freestyle relay event.
There were 12 weeks between the 2012 Australian Trials and the 2012 London Olympic Games. As Stephanie got in the pool to practice, the pain in her shoulder continued to get worse with every stroke. She went from training 60k a week to 30k, and barely making that. She tried making up time out of the water with dryland training to help her stay in shape. And just when Stephanie thought things could not get any worse, she got a terrible bout of food poisoning which kept her off training for three days and took away all her energy. As anyone can imagine, it was an emotionally trying time for Stephanie.
She headed to London, with three shoulder surgeries behind her and knew that she was not in the shape she hoped for or was close to in Beijing four years earlier. Stephanie Rice left London with a fourth-place finish in the 200 IM and a sixth-place finish in the 400 IM. Based on what she had been able to put in to her training or more like, what she had not been able to put into her training, she was proud of her results and knew she could not have tried harder or done any better, considering all the roadblocks that were thrown her way.
Stephanie announced her retirement from swimming at the age of 24, in 2014. She went on to compete in and win the Australian TV Show "Celebrity Apprentice" that same year, becoming the youngest winner of the series franchise worldwide.
Stephanie continued working to make her dreams a reality, this time, just in a different realm. This young entrepreneur co-authored her own book, "The Art of Wellness;" created three on-line programs in health, mindset and swimming; and launched her first food business, called RACERiCE. She is an ambassador for numerous well-known international brands, such as Vegie Delights and Unichi and is working on business ventures in the United States, China and India. She has also worked with global companies like Fitness First and Khloe Kardashian's Good American.
Stephanie's passion in life is to share her wealth of knowledge and her insights to positively impact others' lives and inspire them to be the best they can be. She does this in several ways, such as her mentoring programs, speaking engagements, social media and most recently, her current work in India. Stephanie is stepping back into the world of swimming, and along with her coach, Michael Bohl, planning to build Learn-to-Swim programs all throughout India. In addition, they plan to develop the "Stephanie Rice Elite Academy," with the goal of producing India's very first Olympic swimming medalist in eight to twelve-years' time.
About The International Swimming Hall of Fame Induction Weekend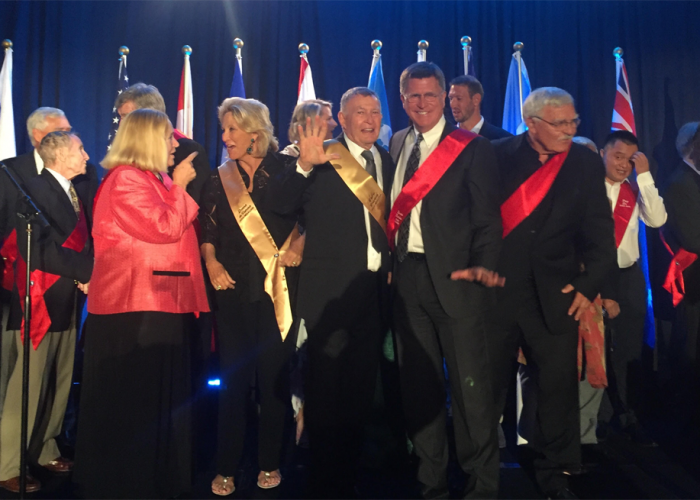 The International Swimming Hall of Fame (ISHOF) Induction Ceremony is shaping up to be a star-studded weekend with multiple events spread out over three days in beautiful Fort Lauderdale, Florida. Make your plans now to attend the weekend of May 17-19, 2019! ISHOF Members can purchase the Weekend Package and Save! Can't attend the event? Make a donation to ISHOF to support our honorees.
This year's International Swimming Hall of Fame honorees include Swimmers: Jason Lezak (USA), Otylia Jedrzejczak (POL), Stephanie Rice (AUS), Britta Steffen (GER); Diver: Li Ting (CHN); Water Polo Player: Alessandro Campagna (ITA); Coach: Boris Popov (RUS); Synchronized Swimmer: Olga Sedakova (RUS); Open Water Swimmer: Marcy MacDonald (USA); Contributor: Dr. Ferenc Salamon(HUN); and Pioneer: Alfred Nakache* (FRA).
ISHOF will also present the 2019 Gold Medallion Award to Dr. Joseph B. MacInnis (CAN).
Greg Eggert—

Competitive Swimming

Don Holbrook—

Water Polo

Bill Farrar—

Competitive Diving

Igor Kartashov—

Synchronized Swimming

Peter Davis—

Aquatic Safety

Carvin DiGiovanni—

Recreational Swimming

Carolyn Wood

—Buck Dawson Author Award: "Tough Girl"

Dale Petranech

—ISHOF Service Award

David Duda

—Judge G. Harold Martin Award

Robert Strauss

—Virginia Hunt Newman Award

Ruth Meyer

—John K. Williams, Jr. International Adapted Aquatics Award

Peter Bick

—Al Schoenfield Media Award

Jim Wood*

—Lifetime Achievement Award
The Weekend Schedule
Friday, May 17th — Paragon & ISHOF Specialty Awards Night
5:30 PM Cocktails, 6:30 PM ISHOF and Paragon Awards at ISHOF Museum
Saturday, May 18th — Honoree Induction Day Luncheon
12-1:30 PM Luncheon ISHOF Museum
Official 55th Annual International Swimming Hall of Fame Induction Ceremony
VIP Reception 6:00 PM, Induction Ceremony 7:00 –10:00 PM at Fort Lauderdale Marriott Harbor Beach Resort and Spa
Sunday, May 19th — Swim Across America
TICKET INFORMATION
MAY 17 ISHOF Awards and Paragon Awards Night (Hors D'oeuvres and Free Bar) 5:30 PM

MAY 18 Luncheon

MAY 18 INDUCTION CEREMONY AND DINNER 6:00 PM
HOTEL INFORMATION
Host Hotel: Fort Lauderdale Marriott Harbor Beach Resort & Spa

Four and a half star upscale retreat with private beach access, two pools, four restaurants, full service spa and oceanside bar. Location
of the Saturday evening induction ceremony. ¼ mile south of the International Swimming Hall of Fame.

Courtyard by Marriott Fort Lauderdale Beach

440 Seabreeze Blvd., Ft. Lauderdale, FL 33316 (954) 524-8733
Special ISHOF Guest Rate of $169 per night
Please call 954 524-8733 and mention Swimming Hall of Fame Honoree Ceremony for the special Rate of $169.
For more hotel or ticket Information contact Meg Keller-Marvin meg@ishof.org / 570-594-4367
* Deceased