Alfred Nakache, Auschwitz Survivor and Olympian, To Be Inducted Into the International Swimming Hall of Fame
---
by MEG KELLER-MARVIN11 February 2019, 09:45am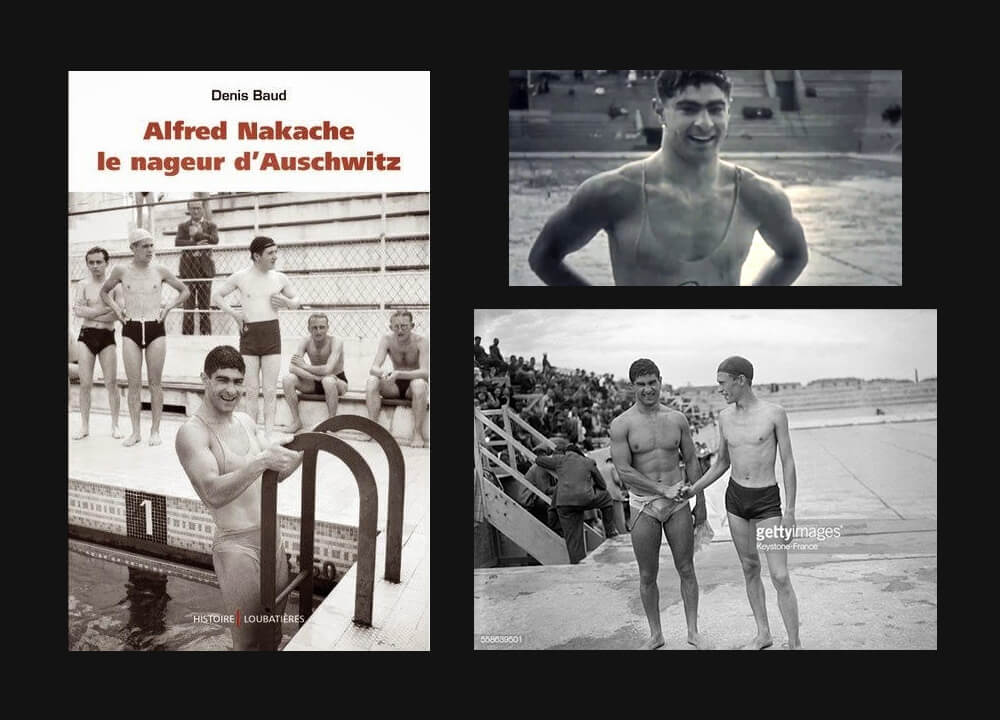 Alfred Nakache, born Nov. 18, 1915 in Constantine, French Algeria, was a French Olympic swimmer and water polo player. He is one of only two Jewish Olympians to compete in the Olympic Games after surviving a concentration camp during the Holocaust.
Alfred Nakache will be inducted into the International Swimming Hall of Fame as a member of the Class of 2019 during the Honoree Induction ceremony in Fort Lauderdale, Florida, May 18, 2019.
Join us at the ISHOF Induction dinner to honor this hero and celebrate his life. Become an ISHOF Legacy Member and attend the ISHOF Induction Dinner for FREE.
The Nakache family arrived in French Algeria from Iraq in the late 19th century to settle in the beautiful valley overlooking the Rhummel River. Alfred was the second of 11 children, and at about the age of 10, he learned to overcome his fear of water and began to swim. In fact, Alfred (nicknamed Artem) became a world-class swimmer!
Initially a freestyle specialist, this athlete with "shoulders lined with hard and protruding muscles" had a "gymnast's arms and legs rather than a swimmer's."
In 1931, Nakache won the Christmas Cup of Constantine Challenge. He was a member of the Nautical Youth Club of Constantine until 1934, and after a few local competitions, he finally realized that he needed to follow the lane lines on the bottom of the pool, and it was then that he began to improve dramatically.
In 1933, he began taking part in the French Championships and moved to Paris at the end of the summer. At the French Championships in 1934, he placed second in the 100 meter freestyle to his idol, French swimmer Jean Taris, who won the silver medal in the 400 free at the 1932 Olympic Games—a tenth of a second behind American Buster Crabbe (4:48.5 to 4:48.4).
However, Nakache knew he could not compete in the upcoming European Championships since he was not yet eligible as a Frenchman—"having not been born on French soil." He was not yet licensed into a French club, but he finally became a licensed member of The Racing Club de France from 1934-36. During this time, he also was a pupil at the prestigious Lycée Janson-de-Sailly in Paris.
By 1935, Nakache became the French champion in the 100 free, although he preferred swimming the breaststroke. That same year, Alfred was one of 1,000 Jewish athletes who traveled to Tel Aviv to attend the second annual Maccabiah Games, where he won the silver medal in the 100 freestyle crawl.
After some hesitation, the Popular Front government decided to send a delegation to Nazi Germany for the 1936 Berlin Olympic Games. Nakache finished fourth in the 4×200 freestyle relay with teammates Christian Talli, René Cavalero and Jean Taris, missing the bronze medal by six seconds. They may not have made the podium, but they had the pleasure of beating the Germans (who finished fifth) in their home country, 9:18.2 to 9:19.0. Japan won the event that year with a world record of 8:51.5.
Upon his return home, due to the conflict with Germany, he was forced to interrupt his studies at the Normal School of Physical Education and flee Paris with his wife, Paule, and daughter, Annie. They become refugees in Toulouse during the German occupation. As a Jew from Algeria, Albert Nakache lost his French nationality.
Between 1936 and 1944, Nakache won the French 100 freestyle six times, the 200 free four times, the 200 breaststroke four times and an assortment of other French swimming titles, many of them setting national records.
By 1941, Nakache was at the height of his career. Swimming for the prestigious TOEC Dauphins swim club in Toulouse, he broke records in France as well as all over Europe. On July 6 of that year—in the seawater pool of the Catalans in Marseilles—Nakache broke the world record in the 200 breaststroke with a time of 2:36.8, bettering American Jack Kasley's record of 2:37.2, set in 1936. Nakache's record lasted for five years, and was finally broken by Joe Verdeur of the USA (2:35.6, 1946).
During this time, Nakache began approaching the Jewish resistance networks, such as the Armée Juive (Jewish Army), mainly by helping with the physical preparation of the recruits.
Anti-Semitic persecution intensified all over Europe, and on Aug. 26, 1942, nearly 1,000 Jews were rounded up in Toulouse. The media was split in their support for Nakache. While some welcomed his swimming and the records broken by Nakache, others called for his exclusion from national competitions because of his "Jewishness." The French Swimming Federation finally gave in to the pressure from the Germans, and banned Alfred Nakache from swimming in the 1943 national championships.
At the time of his records, the Nazis occupied France, and he fought against their claim that "the Jew Nakache…polluted the waters of French pools!" Following the defeat of the German champion and 1936 Olympic swimmer, Joachim Balke, en route to his world breaststroke record in 1941…and soon after setting another European swimming record, a French journalist wrote: "The Jew Nakache should not be allowed to hold any European titles because he is Jewish." All sorts of subterfuges were employed to keep Nakache from competing in German-occupied France, but other French swimmers withdrew from national competitions in support of their fellow athlete.
Despite their support, when the deportation of the Jews began, Nakache was betrayed by a friend, and he—along with his wife and daughter—were arrested (November 1943) and deported to Auschwitz in January 1944. His wife and 2-year old daughter were murdered by the Nazis upon their arrival in Germany. Of the 1,368 men, women and children in their death camp convoy, only 47 survived.
Toward the end of the War, Alfred was moved to Buchenwald, and in 1945 was freed by the Allies. Nakache was one of the 47 survivors of this camp, weighing only 42 kg (92 pounds) at the time. Four months later, he returned to Toulouse to live with Alex Jany and his family, where he started training under Coach Alban Minville. Less than a year after the liberation of Buchenwald, he was part of the French team in 1946 that set a world record in the 3×100 relay (3 strokes). That same year, he also became the French national champion in the 200 breast and 4×200 freestyle relay.
Nakache later became part of the winning French national 4×200 freestyle relay and first post-war Summer Olympics team in London in 1948. As far as is known, he was one of only two Jewish athletes who competed in the Olympics after surviving the Holocaust.
Not only that, but he was also a two-sport Olympic athlete, competing in both swimming and waterpolo at the London Games. Nakache swam the 200 breast, placing 12th in prelims (2:50.4) to reach the semifinals, where he finished 16th (2:59.1). After swimming concluded, he was a member of the French water polo team that finished in sixth place overall.
Nakache retired from swimming in the 1950s and devoted himself to his gym and teaching. He also remarried a young girl, Mary, from Sete. Nakache helped train ISHOF Honoree and French swimmer, Jean Boiteux.
In 1983, in a sad irony of fate, Nakache drowned, suffering a heart attack during his daily swim in the port of Cerberus.
Nakache was inducted into the International Jewish Sports Hall of Fame in 1993. He was the subject of a French documentary in 2001, entitled Alfred Nakache, the Swimmer of Auschwitz. Many pools in France bear his name, such as the City of Toulouse main swimming pool, named in 1944, when he was in the concentration camp in Auschwitz and believed to be dead.
About The International Swimming Hall of Fame Induction Weekend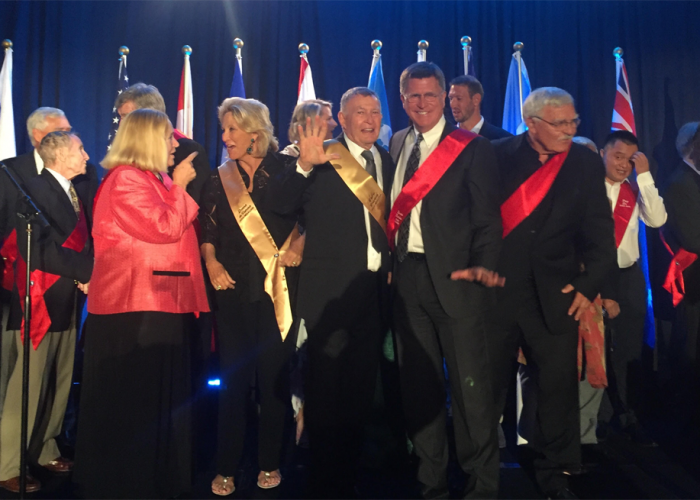 The International Swimming Hall of Fame (ISHOF) Induction Ceremony is shaping up to be a star-studded weekend with multiple events spread out over three days in beautiful Fort Lauderdale, Florida. Make your plans now to attend the weekend of May 17-19, 2019! ISHOF Members can purchase the Weekend Package and Save!
This year's International Swimming Hall of Fame honorees include
Swimmers:

Jason Lezak

(USA),

Otylia Jedrzejczak

(POL),

Stephanie Rice

(AUS),

Britta Steffen

(GER)

Diver:

Ting Li

(CHN)

Water Polo Player:

Alessandro Campagna

(ITA)

Coach:

Boris Popov

(RUS)

Synchronized Swimmer:

Olga Sedakova

(RUS)

Open Water Swimmer

:

Marcy MacDonald

(USA)

Contributor:

Dr. Ferenc Salamon

(HUN)

Pioneer

: Alfred Nakache

* (FRA).
ISHOF will also present the 2019 Gold Medallion Award to Dr. Joseph B. MacInnis.
Greg Eggert—

Competitive Swimming

Don Holbrook—

Water Polo

Bill Farrar—

Competitive Diving

Igor Kartashov—

Synchronized Swimming

Peter Davis—

Aquatic Safety

Carvin DiGiovanni—

Recreational Swimming

Carolyn Wood

—Buck Dawson Author Award: "Tough Girl"

Dale Petranech

—ISHOF Service Award

David Duda

—Judge G. Harold Martin Award

Robert Strauss

—Virginia Hunt Newman Award

Ruth Meyer

—John K. Williams, Jr. International Adapted Aquatics Award

Peter Bick

—Al Schoenfield Media Award

Jim Wood*

—Lifetime Achievement Award
The Weekend Schedule
Friday, May 17th — Paragon & ISHOF Specialty Awards Night
5:30 PM Cocktails, 6:30 PM ISHOF and Paragon Awards at ISHOF Museum
Saturday, May 18th — Honoree Induction Day Luncheon
12-1:30 PM Luncheon ISHOF Museum
Official 55th Annual International Swimming Hall of Fame Induction Ceremony
VIP Reception 6:00 PM, Induction Ceremony 7:00 –10:00 PM at Fort Lauderdale Marriott Harbor Beach Resort and Spa
Sunday, May 19th — Swim Across America
TICKET INFORMATION
MAY 17 ISHOF Awards and Paragon Awards Night (Hors D'oeuvres and Free Bar) 5:30 PM

MAY 18 Luncheon

MAY 18 INDUCTION CEREMONY AND DINNER 6:00 PM
HOTEL INFORMATION
Host Hotel: Fort Lauderdale Marriott Harbor Beach Resort & Spa

Four and a half star upscale retreat with private beach access, two pools, four restaurants, full service spa and oceanside bar. Location
of the Saturday evening induction ceremony. ¼ mile south of the International Swimming Hall of Fame.

Courtyard by Marriott Fort Lauderdale Beach

440 Seabreeze Blvd., Ft. Lauderdale, FL 33316 (954) 524-8733
Special ISHOF Guest Rate of $169 per night
Please call 954 524-8733 and mention Swimming Hall of Fame Honoree Ceremony for the special Rate of $169.
For more hotel or ticket Information contact Meg Keller-Marvin meg@ishof.org / 570-594-4367
* Deceased